– Dalarna horses: I even have a fabric with these horses on it, but I didn't really know about their existance until I read this Ikea-book. Now I'm in love with them and I want a red horse to place in front of the potential turquoise wall in our future home.

– Baskets: For some reason, I'm into all kinds of baskets lately. Maybe it's because they remind me so much of summer and picnics in the sun. Anyway, I love them and I plan on wearing my basket-like bag quite often this year.

– Frau Tulpe: Through one of my flickr friends, I found Frau Tulpe which is an online shop selling the cutest fabrics and sewing supplies. My boyfriend already ordered some 'shroom-fabric for our future kitchen!

– Vintage silhouettes: I think my Camper-flats made me fall in love with black-and-white silhouettes. Luckily, I found two beautiful "embroidery-pictures" with silhouettes some time ago.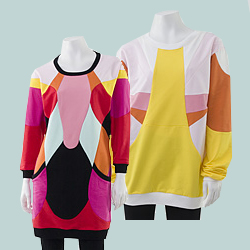 – Devandervar: As you know, I usually don't fall for one special designer. However, I forgot all my principles when I found Devandervar on Styleserver, because their colorful graphic sweaters are just lovely and really inspiring.