In this post, I mentioned that I want to stop buying new things all the time, but think about what I already have and how to wear it in new ways first. Although I tried it, I noticed it's quite difficult to think of completely new combinations, because I mostly had some old outfit in my head when looking at my clothes. For that reason, I was happy to stumble upon this thread in my favourite Flickr-group Wardrobe_Remix. In there, people post a link to the set with their outfit-photos and other members of Wardrobe_Remix try to put new outfits together for them, using the things they already have in their closet. In fact, they remix the other's wardrobe – by combining the same old things differently – which is what the group is all about, I suppose. I love the idea and I think it's fun to see how people create new outfits for others that are in accordance with their style, but also contain what the "stylist" likes. If you need some new inspirations just like I did, join in the game and have fun being styled and styling others!
What others made me wear:


I love this skirt that was handmade by me this summer, but I would never have thought of wearing it in autumn with tights, boots and a long shirt. The striking colors mixed with neutrals and the sleeves peeking out are nice ideas as well. Thanks for the new inspiration, Sarah!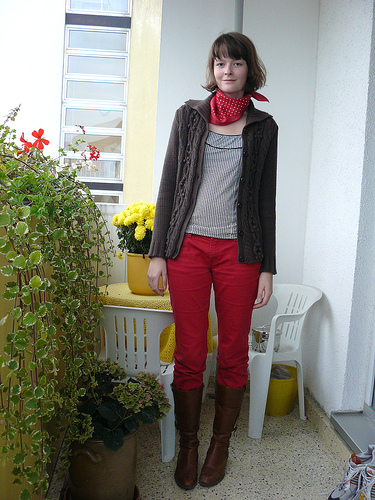 This outfit (except for the scarf that I chose instead of a red necklace) was suggested by Hanvnah. Although I have been wearing this shirt with my red jeans before, I like that she combined them with the boots and something red on the upper half of my body.
I just love these colors on Boboniaa and I think the similar fabrics really put it all together. In addition, the color of the stripes on the crop jacket recurs on the shoes which is something I really like.
In this outfit, I just combined some of my favourite pieces from Vasiliisa's wardrobe and I think it all works together so well. I love how she added some darker tights under the ones I chose for her, because it shows off the pattern so well!
After Sjwhidden had put an outfit together for me, I wanted to style her as well. I thought that green-yellow-lilac was a lovely combination, since she loves colors. The tights should add a bit of neutrality.